ABOUT US
Hi, I'm Jane. I'd like to welcome you personally to our website!
I'm a sensual, passionate, sexy Milf (so I've been called!) who just happens to be madly in love with the cameraman and producer of our videos. I love to film all sorts of hot, horny sex scenes with and without him and I especially enjoy playing with my ass, pussy and tits just for you while the camera is rolling.

You know, for most of my life I'd always been a bit shy and reserved about sex and had never watched any porn – ever! When Danny and I got together a few years ago (yes, our second marriage) we wanted to explore everything 'sexual' together as a couple. After hours of talking about our own fantasies and watching lots of free porn, we joined a few adult websites. Some were really good and others weren't. We were looking for REALITY SEX sites with real amateurs doing their thing – not fake porn stars! Know what I mean? And so our adventure began.
You might also like to know that I just love wearing sexy panties & G strings (in fact all kinds of sexy lingerie) and I'm as happy frolicking around naked at home as I am in the great outdoors. Danny is usually not far away, often filming and taking hot sexy photos, so you don't miss out on any of the action!
As for sex, I love experimenting and exploring fantasies with Danny as we film all sorts of hot, horny, sexy scenes. If you like to watch a sexy Milf fingering her wet pussy in all sorts of positions and having squirting orgasms, you'll love all the sexy videos featuring yours truly! We really hope that you'll join us as a member and enjoy all that we have to offer you.
G'day! (as we Aussies say) I'm Danny, WELCOME!
I'm passionate about photography and film making and have many years of experience in front of as well as behind the camera. This website has just taken my passion in another direction! If you enjoy watching quality real amateur sex, then you will love what we have in store for you.
I'm a hot blooded male who just happens to be married to the sexiest Milf in the world! (I'm biased – but I'm allowed to be!) We have the most amazing chemistry between us and with every passing day, I'm thankful for how fortunate I am to have found my beautiful and sexy Jane. She brings our videos to life and makes the finished product something very special for you to enjoy, over and over again. I'm a very lucky guy!
We enjoy a fantastic lifestyle which allows us to travel on a regular basis. Members have asked how we manage to film our sexy videos & capture hot photos in such a variety of locations. Luckily we both have an eye for a great location & backdrop, so we always have the cameras with us – just in case! You could say we are outdoor, real amateur sexperts!
As for our sex lives, we enjoy heaps of intimacy as well as hot oral sex, shower and bathroom sex, creampie, anal, handjobs, blowjobs, cumshots, fingering, pussy and ass play, squirting, sexy lingerie, light B&D, outdoor and indoor sex – phew! Did I miss anything?
Our tour videos will give you just a taste of what's in store for you when you join us.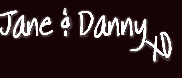 P.S. Enjoy Cam2Cam sex? Well, an extra feature of joining as a member of JaneAndDanny.com is that you'll be able to join our group Camshows once a week or book a private show with us - as a couple or alone with Jane. We put on a great amateur couples show with hot role plays, phone sex, hot pussy and ass play, blowjobs, cumshots, creampies and more! As for Jane's private webcam sessions – we have regular members that keep cumming back for more. She's mighty hot!